Members
Przemyslowy Instytut Motoryzacji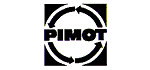 ul. Jagiellonska 55
03-301 Warszawa
tel. (022) 811 14 21
fax: (022) 811 60 28
www.pimot.org.pl
Share capital: 12 029 600 PLN
Employment: 241
Director: Andrzej Muszyński
The Automotive Industry Institute (PIMOT) is a research entity established by the Council of Ministers in 1972. Its scope of activities includes conducting scientific research, R&D work on and implementation of car parts and assemblies, preparing studies, designs and experimental production for automotive and related industries. The Institute makes analyses, expertise, forecasts, opinions and reports on automotive industry and market as well as co-operates in creating regulations and procedures in respect of products and business activities.
The main clients include producers of vehicles, semitrailers and trailers, automotive parts and assemblies.
PIMOT has significant share in the market for testing and certification of parts and assemblies and standards compliance examination.
PIMOT holds the following:
Issued by PCBC the Accreditation Certificate which entitles PIMOT to certify automotive products to be marked with safety mark "B",
the Accreditation Certificate issued by PCBC for PIMOT testing laboratories,
The Polish Standards Committee licence which entitles PIMOT to certify producers for compliance with the Polish Standard,
The right granted by the Minister of Transport and Maritime Economy to conduct type-approval tests to comply with the selected ECE UN Regulations.